FEATURES AND TECHNOLOGIES
Scans the environment
The RTV sensor Box scans the environment using 3D-Lidar. It has an idea of the obstacle´s dimensions or distance in the range of 360°.
Segments the path
With 360° camera and algorithms using neural networks, the sensor is able provide information about the suitable path to the destination.
Recognizes objects
Static and dynamic obstacles detected by Lidar are recognized and classified into the groups by a front camera and neural network.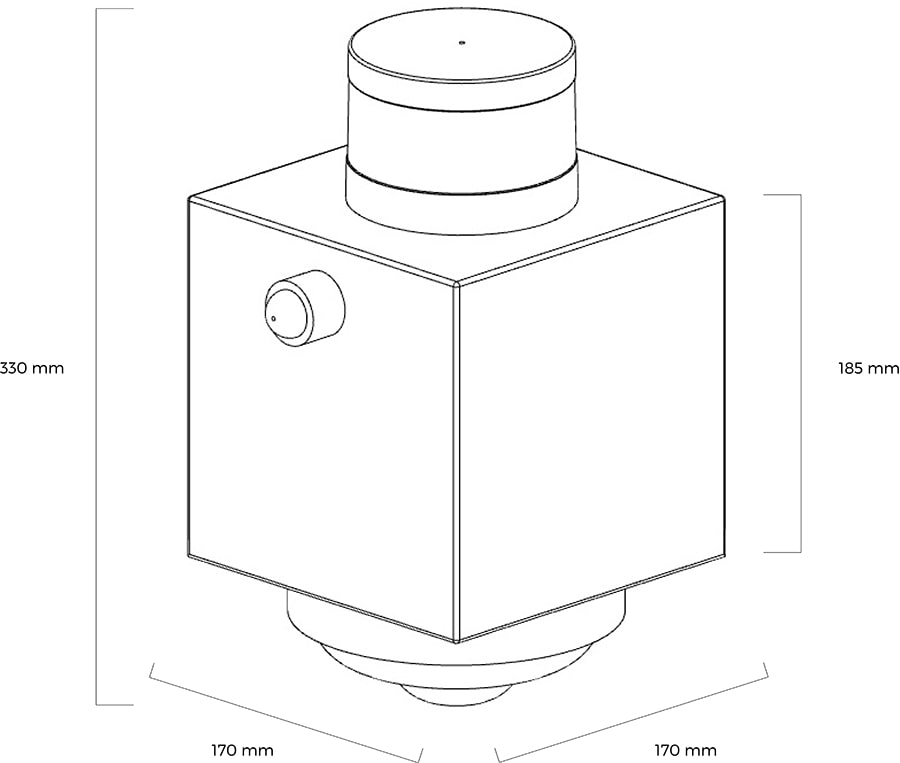 Dimensions
Width: 170 mm
Height: 330 mm
Depth: 170 mm
Weight: 2 kg
Components
360° camera, front camera, 3D scanner
CPU
8-core ARM v8.2 64-bit CPU, 8MB L2 + 4MB L3
Operating system
Linux Ubuntu with ROS Melodic
Software
Path segmentation, detection of static and dynamic objects, face recognition, environment scanning
Outputs
raw data from sensors (image from 360° camera, image from the front camera, point cloud from 3D scanner)
detected objects marked with a bounding box (coordinates of corners, object designation, and success rate in percent)
live view with marked detected objects (bounding boxes)
path segmentation using a mask
live view with path segmentation using a mask
projection of data from a laser scanner into a 2D image mask
path segmentation mask with subtracted 2D mask projection (path segmentation with removed obstacles that were not recognized) The company focuses on the development of autonomous robots with AI elements. It strives to develop universal solutions for various tasks, industries and environments.