Mobile robotics
RoboTech Vision develops its robotic platforms designed for different environments and tasks, on which it deploys its intelligent software.
AI and neural networks
Thanks to AI and neural networks development, devices can learn, create a knowledge base and use it to perform various tasks.
Navigation algorithms
The company develops autonomous navigation and location algorithms for different types of platforms that plan a route and avoid obstacles.
Visual systems
The company also focuses on recognizing people, vehicles, animals, faces and car registration numbers or tracking objects.
Voice control
Voice processing is also part of the development. Thanks to the Speech to text algorithm, devices can be controlled by voice from an app.
Customized solutions
The company also focuses on specific tasks in which robots equipped with intelligent algorithms independently solve complex tasks.
RTV SENSOR BOX
The RTV sensor Box is a combined sensor that enables the robot to plan a route, autonomously pass to the destination, detect and avoid obstacles, or preprocess data for other algorithms. The sensor combines a 360° camera, a front camera, and a 3D lidar with high output accuracy.
CRAWLER
The Crawler mobile robot is designed primarily for the offroad. Durability, terrain capabilities and a low centre of gravity are the basis for the robot's movement in difficult terrain and on unpaved surfaces. Crawler can be loaded with an 80 kg load and meets the IP 65 specification.
CASTER
The Caster mobile robot is a versatile platform designed for both indoor and outdoor environments. The robot overcomes door sills, raised covers or drainage channels and can move outdoors, especially on paved roads. Caster can safely carry loads up to 75 kilograms.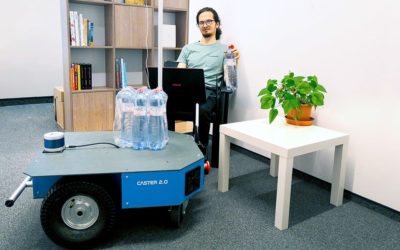 Examples of AI use: The robot recognizes faces and distributes drinksMarch 23, 2022  |  Development Artificial intelligence has a wide range of uses. It can help people to sort data, help with image processing and automate various other processes....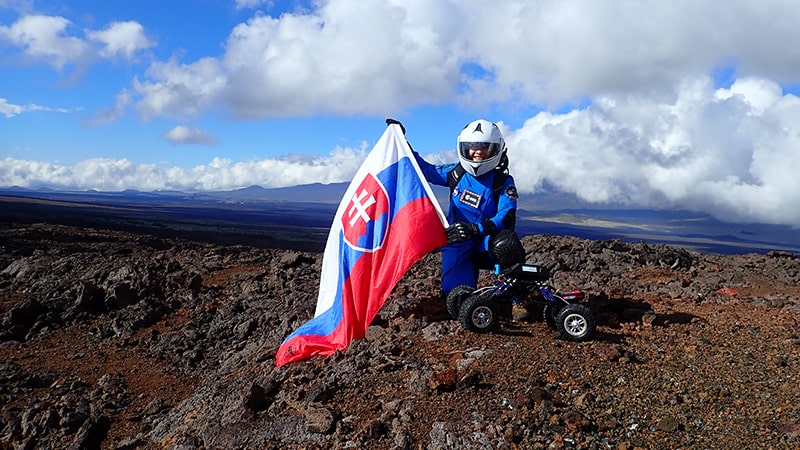 "We also tested two other robotic vehicles provided by ESA on the mission. We also had to find the limits of their action in the terrain. Of all three rovers, RoboTech Vision's Androver I worked best. It had the longest endurance, overcame the most difficult obstacles and we were able to control it from inside the station. "
– Dr. Michaela Musilová, SOSA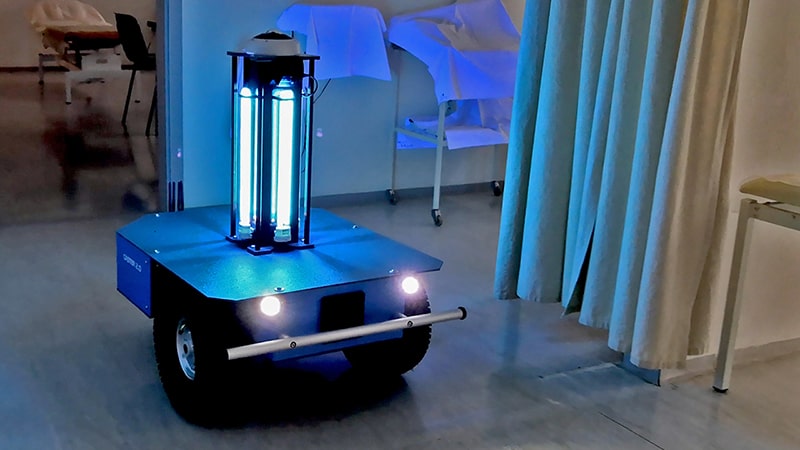 "We worked with RoboTech Vision on the development of new product, an indoor, teleoperative UVC disinfection robot. The company has developed a unique chassis with tremendous indoor mobility capabilities. They've also added state-of-the-art security features to recognize people using artificial intelligence."
– Ing. Peter Novák MBA, Novo Ltd.

"They are developing a universal algorithm for mobile robots."

"Three robotics graduates gave the robot eyes and ears."

"The robot can detect the obstacle and also its nature."

"The Slovak robot helps in space research."

"The products of the Slovak company have amazed the world."

"The Slovak robot was part of the space ESA mission." The company focuses on the development of autonomous robots with AI elements. It strives to develop universal solutions for various tasks, industries and environments.