The Androver II robot, completely developed by RoboTech Vision, is able to move autonomously in an unfamiliar environment thanks to our algorithm. Unlike the Husky A200 robot, environment does not need to be pre-mapped. Thanks to robot´s visual system, Androver II recognizes the road, crossroads, obstacles and moves along the route entered by waypoints without collisions.
The robot chooses a direction on crossroads on its own to follow waypoint and get to the destination. This type of navigation is called reactive navigation because the robot responds to environmental conditions. Androver II deals with sidewalk segmentation despite the leaves.
Check out the news about the company RoboTech Vision, the results of its work, and further steps for the company in the near future.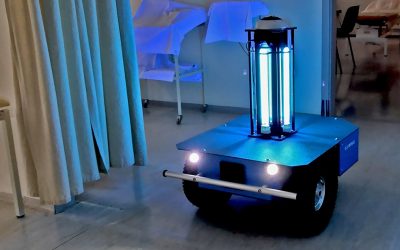 Caster mobile robot has found application as a UVC disinfection solutionJanuary 23, 2021  |  News It didn't take long for the versatile Caster robotic platform developed by RoboTech Vision to find its use. It is a mobile disinfection solution with a 500 W germicidal...
read more